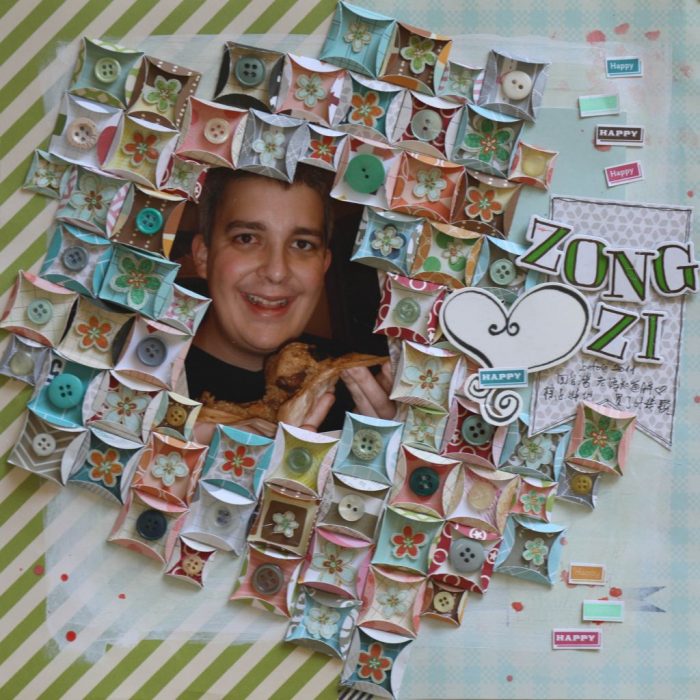 I created this layout for Hip Kit Club Friday challenge. Instead of following a sketch, the participants of this challenge need to do a "boys only" layout this week. I found a photo featuring Jé eating a Zong Zi when we visited my family in Taiwan years ago. I think it is a perfect picture to celebrate both Father's Day in France and Duanwu Festival (Dragon Boat Festival) in Taiwan the day before yesterday and yesterday respectively.
As to the design of this layout, I punched out two different sizes of circles out of some paper scraps I picked randomly without selecting particular colors. I just wanted to use up as much scrap papers as possible. Then I folded four sides of each circle to create an interesting form and placed them around my photo. I learned this technique from Paige Evans and love it as the layout is not only unique but also easy to do. Well, it did take me some time to fold all the circles, but the result is worthwhile.
To finish the background, I further placed some hand-cut flowers and buttons inside each folded circle. Again, I enjoyed a lot gluing all those colorful buttons with my heat gun glue.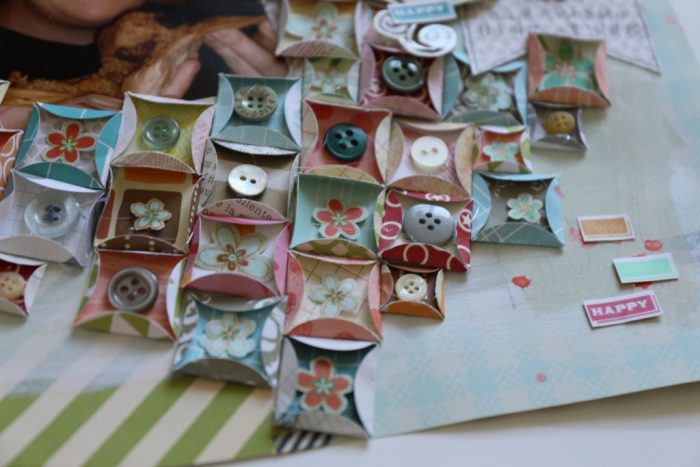 Since the background is already quite full, I simply add the title with thicker alphabets, which color reflects the color of Zong Zi, without decorating more.The journaling is also short. To finish the layout, I placed repeatedly the word "Happy" cut out from a piece of pattern paper on the right side of the layout and dropped some red Color Shine to have a finishing touch.