A new layout following Hip Kit Club's weekly sketch challenge. This sketch looks quite simple, which however offers many possibilities.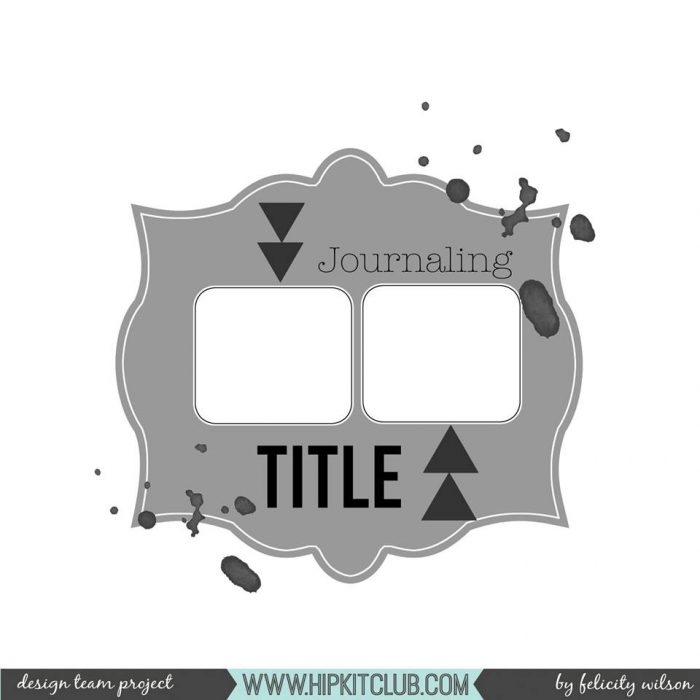 I took two of my wedding photos in Taiwan back to 2015. As I have many wedding photos to scrap, it was quite difficult to select just two in the beginning. But again, I remind myself of being simple, so I kind of selected two photos randomly among a great pile of photos. The focus is to find two small photos, so that I can match the sketch. Once the photos were selected, the rest came quite easily. When I saw this sketch for the first time, I was attracted immediately by the irregular frame around the photos. I have plenty of 12×12 die cut sheets with irregular frame from different manufacturers. I selected a light pink one from Making Memories. I like the subtle white handwritten scripts and the elegant brown curve around the shape. To emphasize its beauty, I hand-stitched some white threads along with the curve. I was not sure if I should do so in the beginning because I was afraid of taking too much time by doing so, but I just couldn't help it. I'm glad that I did so. It looks very nice. I backed this pink sheet with a sheet of floral pattern paper from Echo Park's Petticoat& Pinstripes collection. The name of this sheet is called Beautiful Bouquets, prefect for the wedding theme!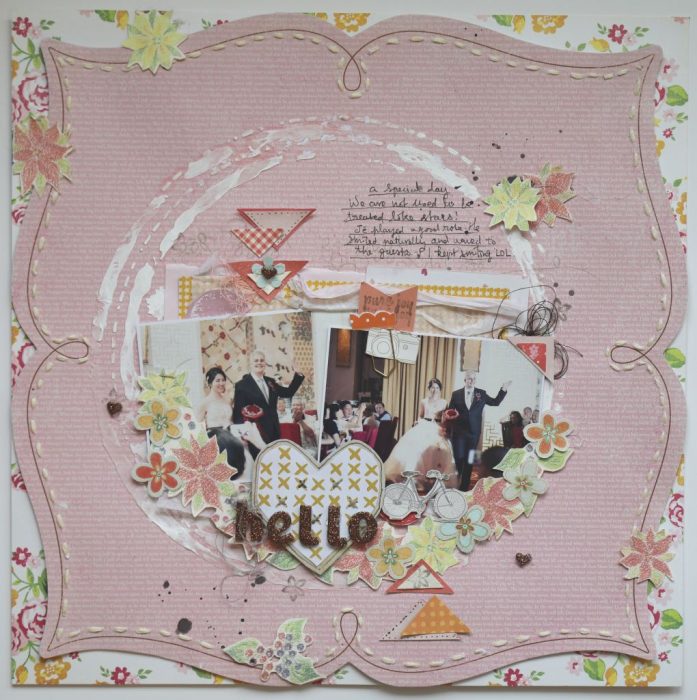 I applied some gel medium through stencil on the pink sheet and created a cluster inside the circle. Placing some scraps beneath the photos is what I like to do when it comes to decorating the photos. The flower frame is cut out of an old calendar back to more than 14 years ago when I visited my family in Japan (would you believe it?). I followed the sketch instruction to add some triangles one the top and bottom of the two photos and some black drops on the opposite sides of the triangles. The title and handwritten notes are also placed according to the sketch.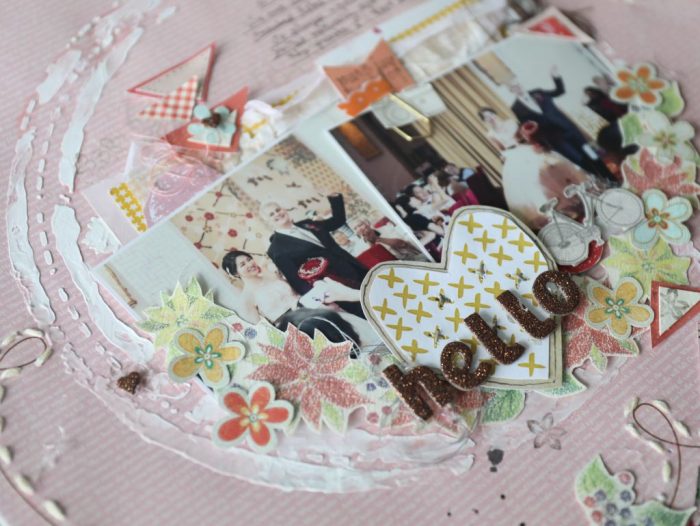 The title of this layout is "hello", very ordinary I know. However it is exactly what these two photos are about. It was in the very beginning of the wedding and we were waving at our wedding guests to say Hello to them.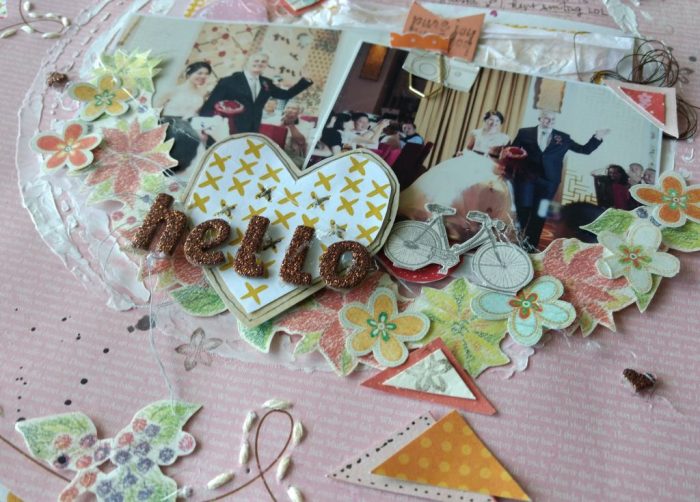 I like to apply some gel medium to create textures on the layout. It is so easy to do.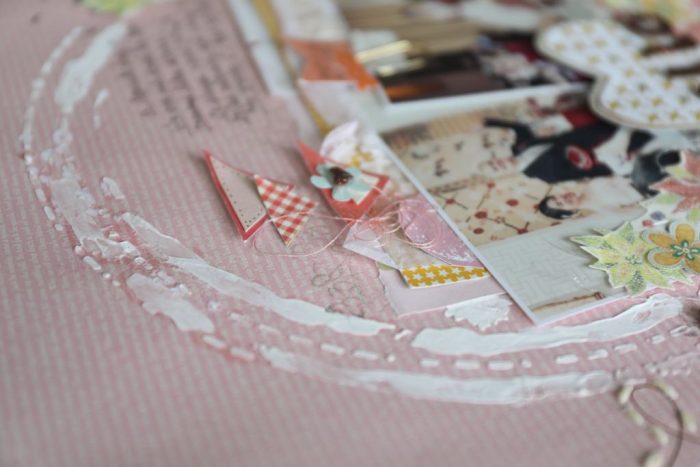 I fussy cut some small flowers and placed them on the flower frame that I cut out of the old calendar to create some dimensions.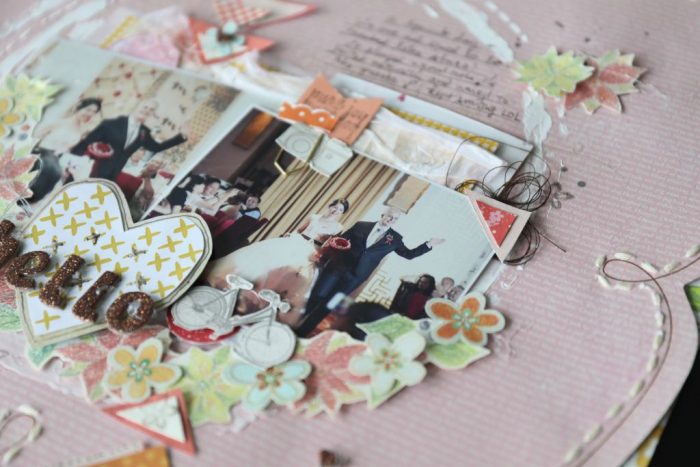 Adding some threads here and there: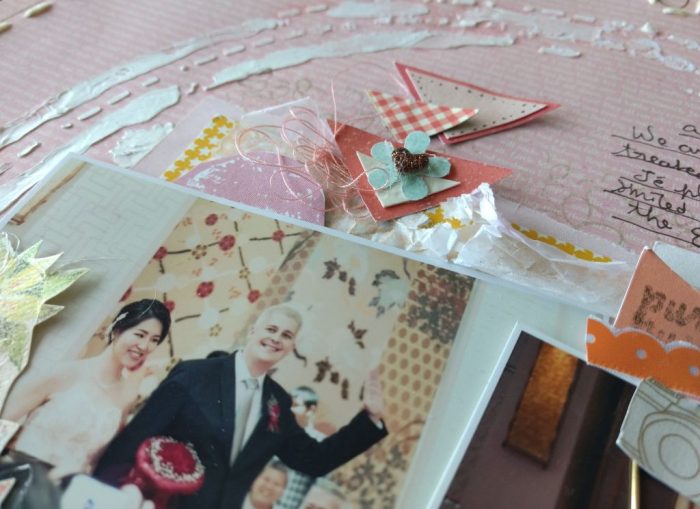 Some close-ups: