I made this layout for The Studio Challenges' November challenge. The guideline is to use cuts files and die cuts.
I cut some hearts from my Silhouette Cameo and wanted to use both positive and negative sides of the four heart shaped die-cuts so that I wouldn't waste any scraps. In this way, I will have four hearts. Interestingly once I decided to do so, I quickly had an idea about my layout by simply placing these hearts on the background paper. The page was full immediately and I felt that the job is half done, which is of course not true. I ended up spending time selecting the embellishments to decorate the hearts and embossing the small parts of both negative parts of the heart die-cuts. Finally I hand-stitched the outer and inter lines of both positive hearts with the threads of different colors.
Since I chose black and white photos, I thought that the layout would be colorful and didn't mind using all the colors that I would find. The aqua-green background paper looks perfect with its geometric design.
The photos were taken in the morning of my wedding in France. Je and I just decided to take a photo in a photo booth in the metro station near where we live. For the first time we took a photo in the photo booth just for fun and not for administrative purposes. (Hahaha)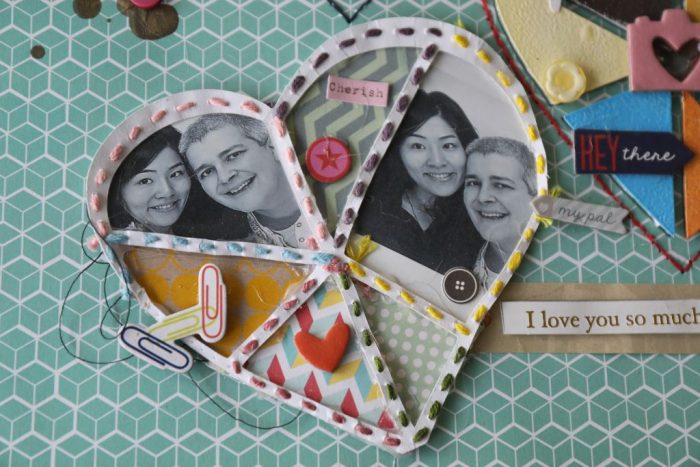 I also hand-stitched the surroundings of the negative parts of the heart die-cuts with a slim red thread. It made the heart completed. The title is a cut file from Wilna Furstenberg.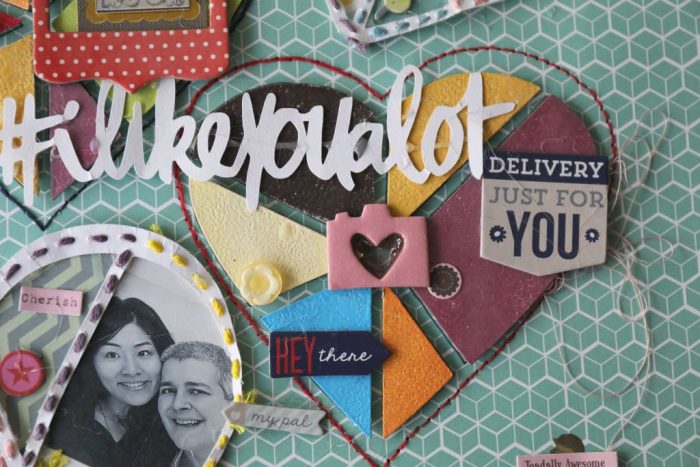 What I like about this layout is to use some beautiful embellishments that I like so much that I've been keeping without using any.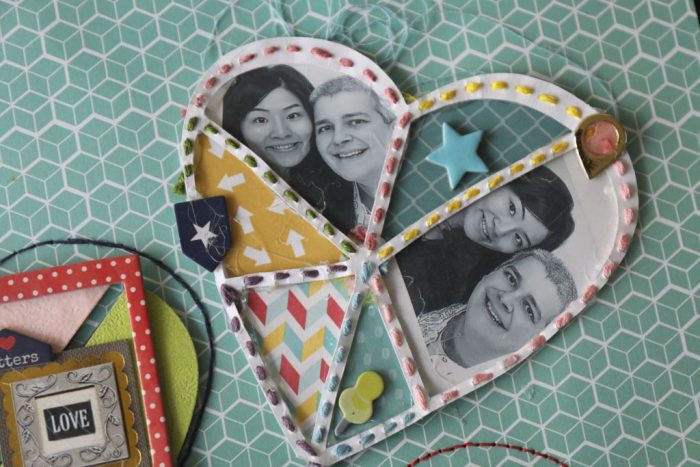 I also enjoyed embossing different parts of the hearts with different colors. This technique is so easy and interesting to do.