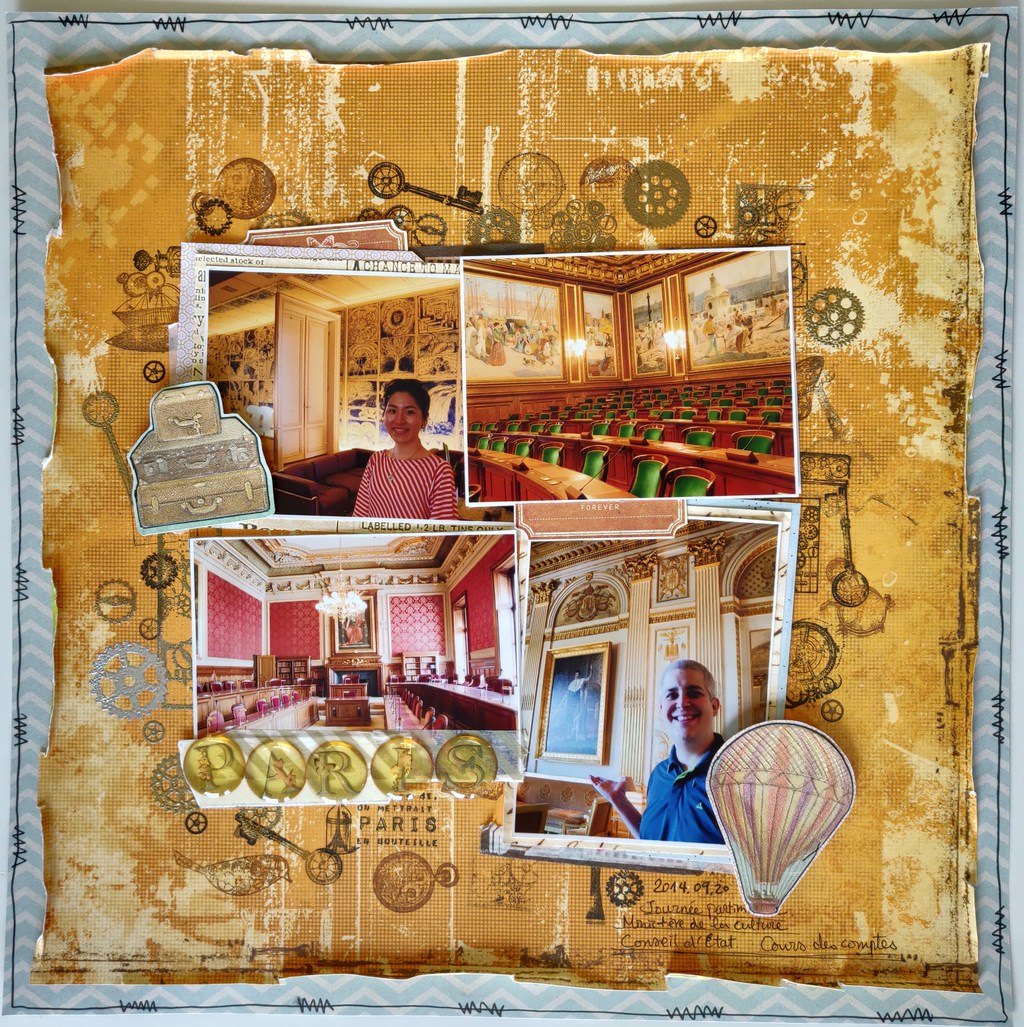 The first Scrapbooking layout in August is for Challenge YOUrself's Steampunk themed layout challenge. It is actually a July challenge but the deadline is on August 4th.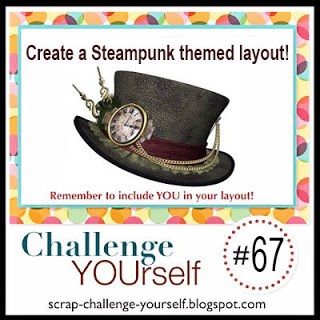 I was very confused about this topic at first because I didn't know anything about Steampunk. After reading the explanation on Wikipedia and seeing some related pictures via Google's images search, I have a better idea about this culture. However, I was still hesitated and was not sure if I wanted to participate in this challenge as I am not a fan about Steampunk, which is kind of weird to me.
Steampunk objects remind me that I actually have a set of stamps that is close to the style, but I didn't use it until now. I do not even know why I bought this set of stamps. In addition to stamps, I also took out some very old patterned papers and embellishments. As to photos, I chose several photos about my visit in Paris during European Heritage Days  in 2014.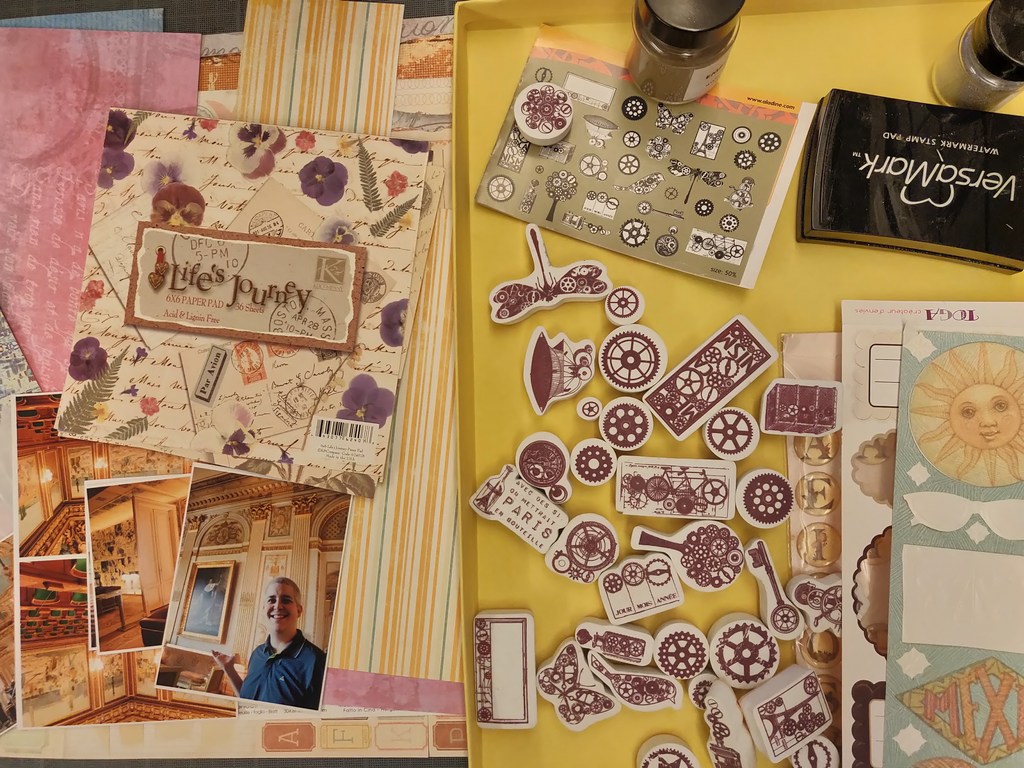 Here is the stamps set that I bought years ago. They are NEW!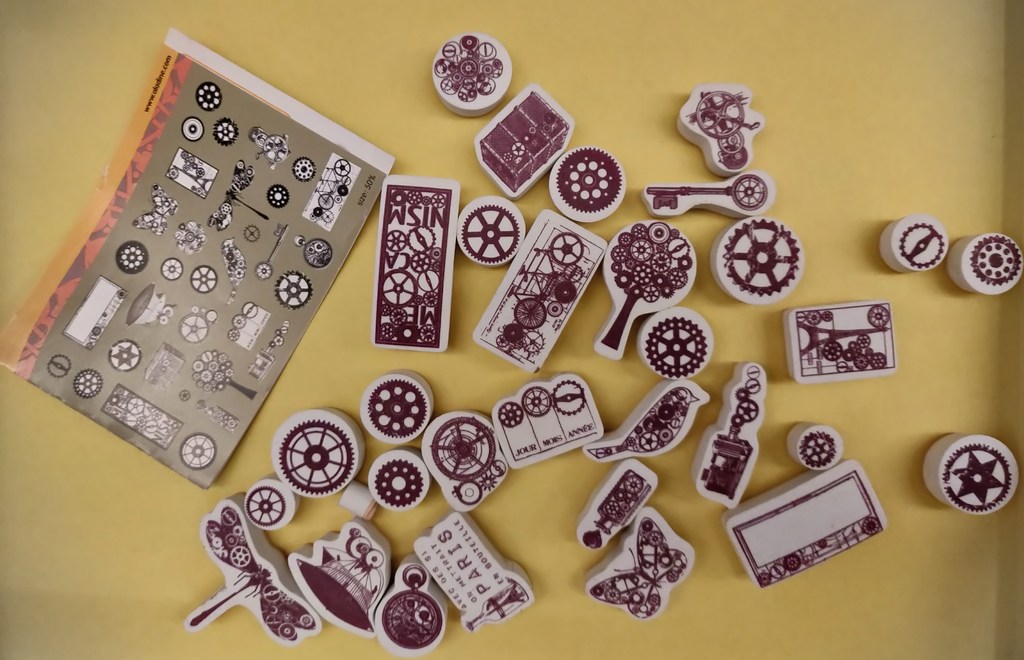 I chose an old patterned paper from oh la la designs back to 2010. I didn't know this brand, which doesn't exist anymore, before digging out this patterned paper. In order to follow the challenge guideline, I decided to use as many Steampunk objects as possible. That is to use almost all my stamps. As I decided to put my photos in the middle of the page, I wanted to create a photo background surrounded by the stamps.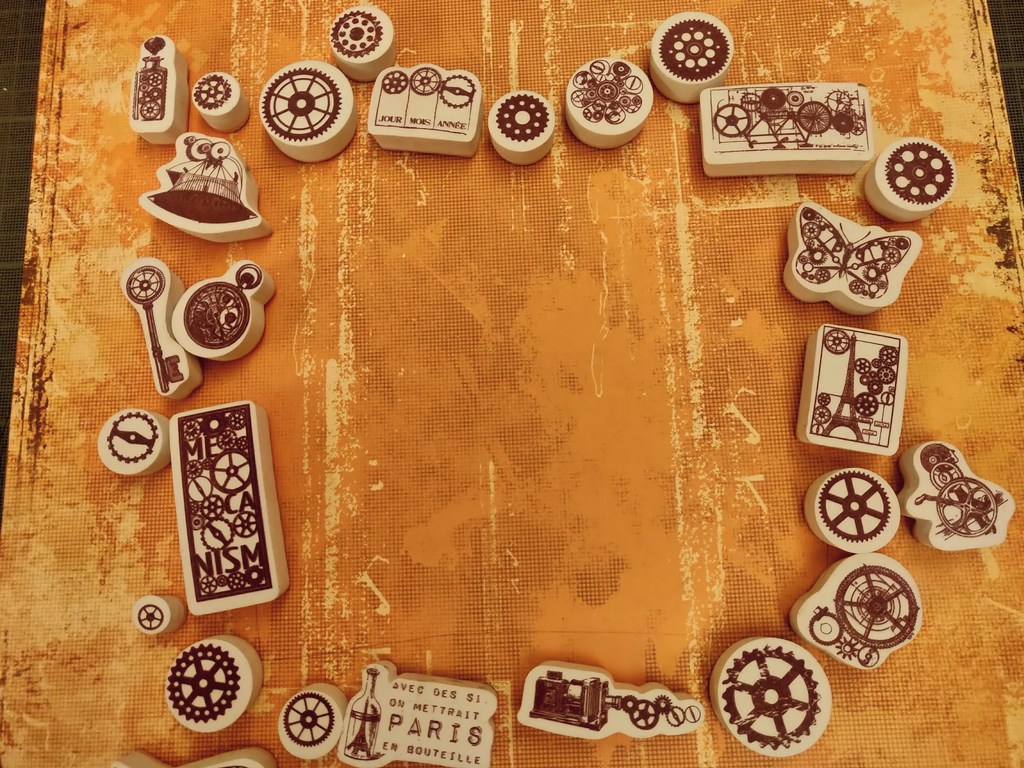 I used black and brown inks to stamp for some stamps. I also stamped with embossing power to create a metallic look.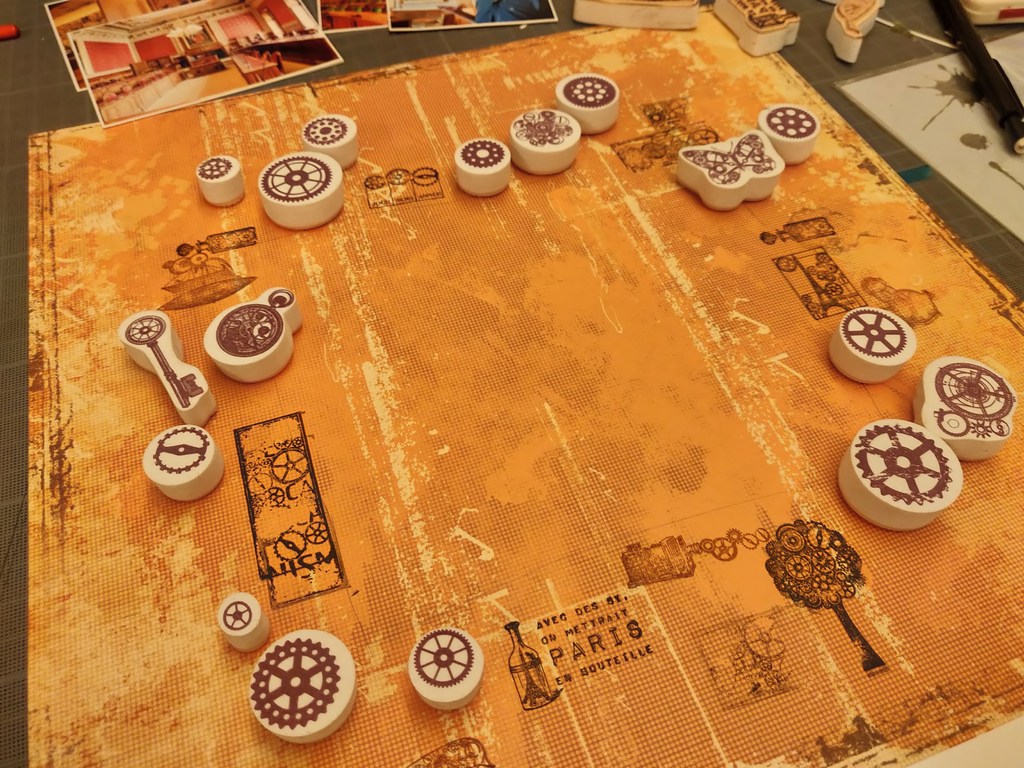 I chose 6 3″x4″ photos as I wanted to kill as many as old photos in this layout. Because the page is very full, I put 4 photos that are visible to the readers and hid two other photos behind two similar photos.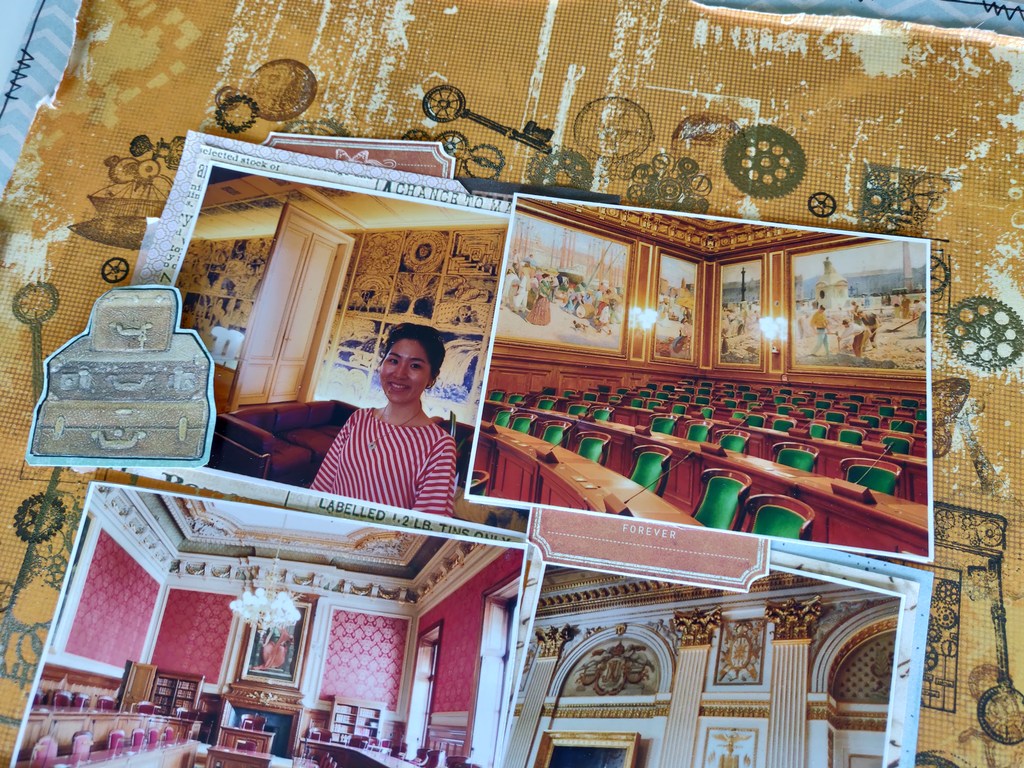 We visited Ministry of Culture, Conseil d'Etat and Court of Audit.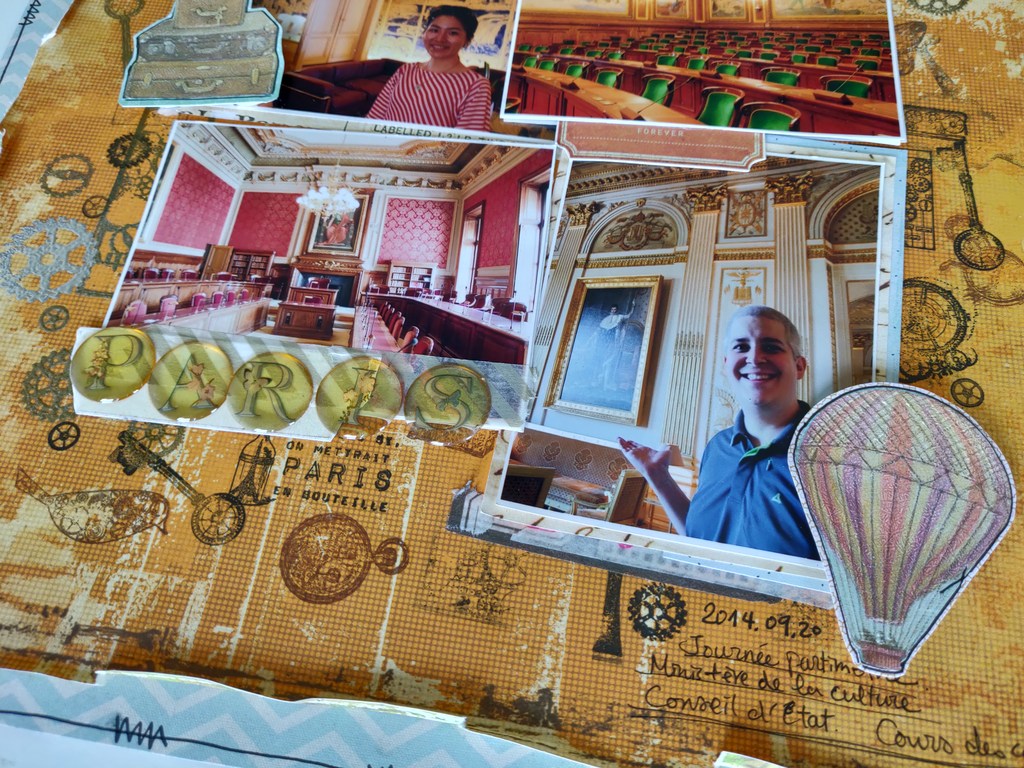 You can flip up to see two hidden photos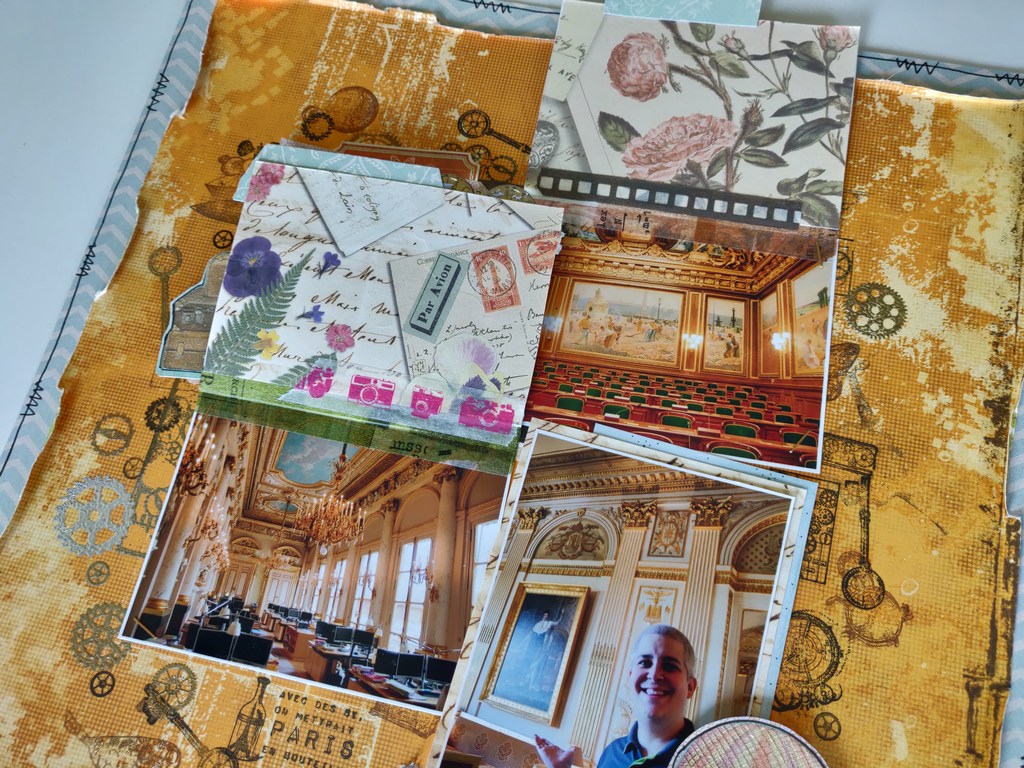 Besides the patterned paper, I also chose K&Company embellishments that are buried in my stash for more than 15 years. I bought those supplies in 2003 when I was still in Taiwan. Scrapbooking was new to me at the time and there were very few scrapbooking supplies available in Taiwan. I therefore bought everything I could find without considering if I liked the style and design or not.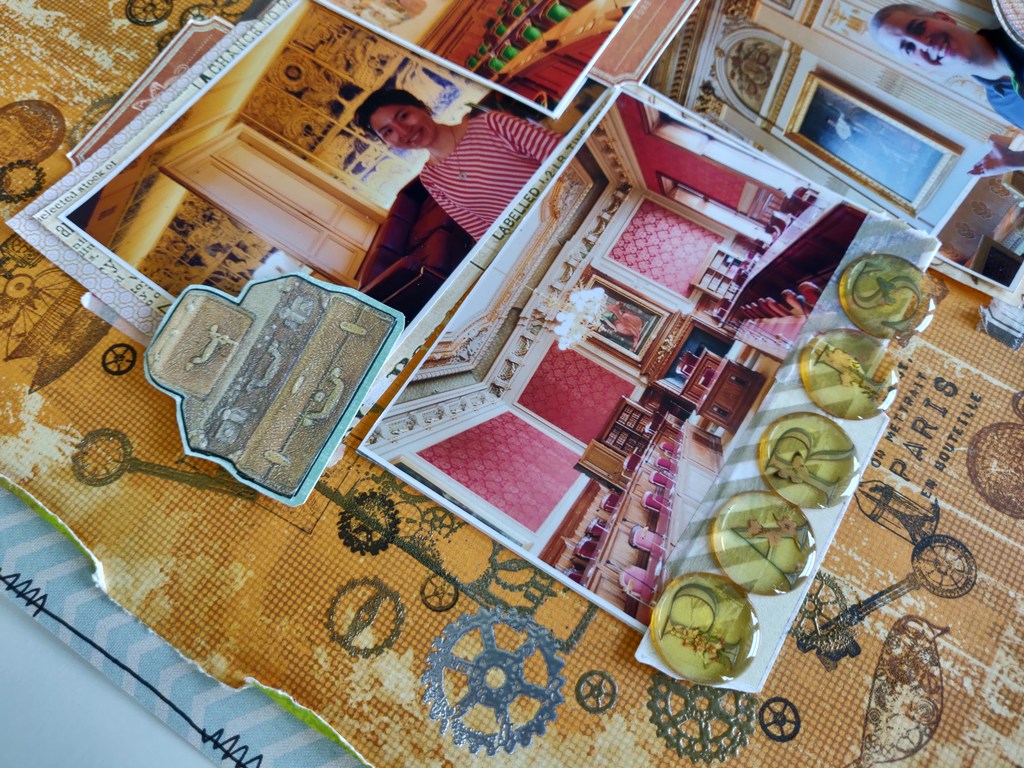 I simply backed up two photos with scrap paper.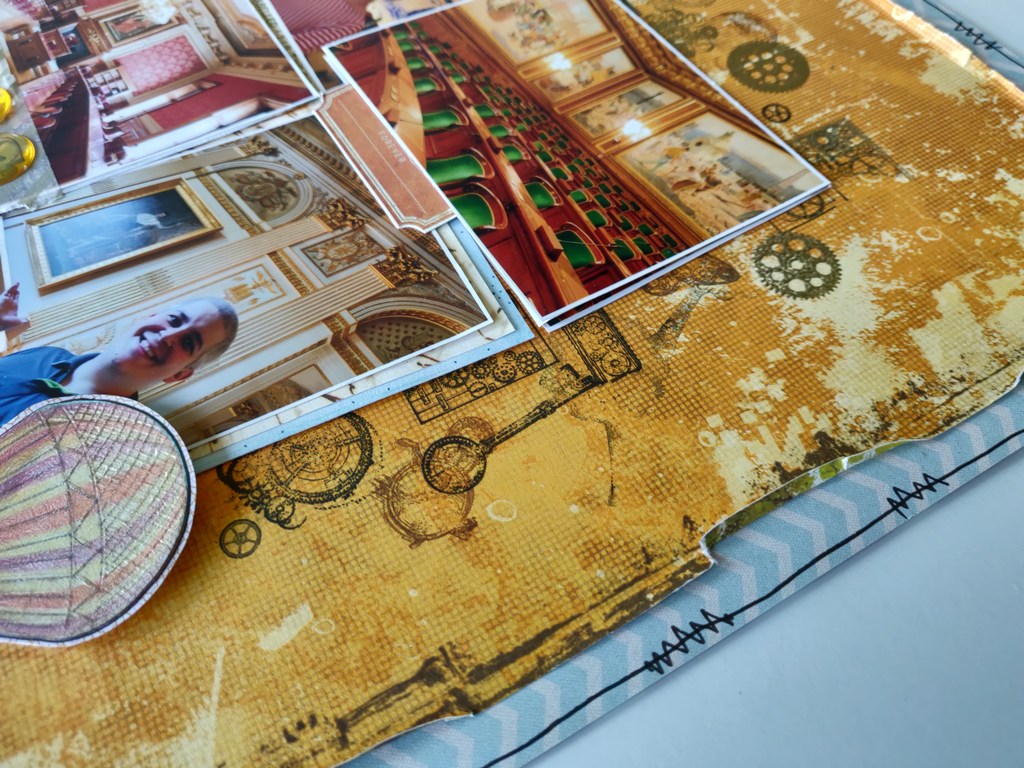 I added a piece of light blue background paper to back up the dark yellowish design; otherwise it is too heavy for me.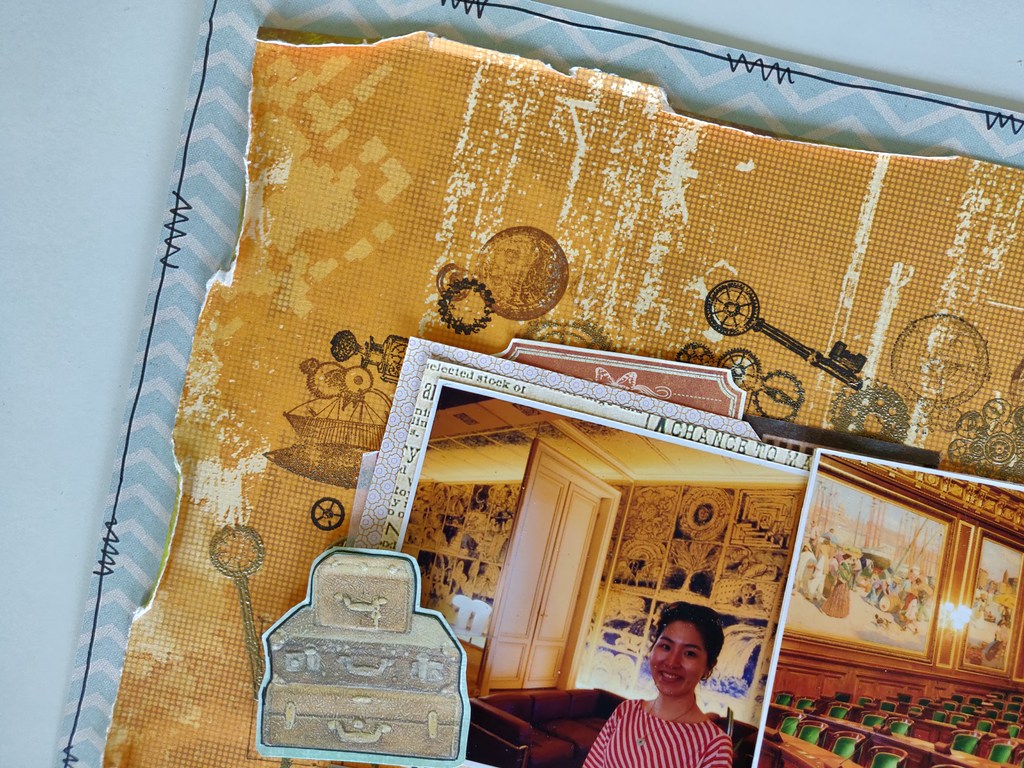 While doing the layout, I felt that it is a combination of everything I don't like and I want to get rid of these supplies directly. I felt relieved after killing some old photos and using up very old supplies. I would say that it is a benefit to do this layout.
My 2 year-old son saw my layout on the table the next morning and wanted to touch it. I love to see how he reacts when he sees my layout, so we started our layout time. He recognized me and my husband and called both of us Mama. He liked to flip up the photos and was excited to see things behind the photos. His favorites should be two embellishments with 3D stickers behind to create some dimensions. As my son tried to take them off several times, I can only take the layout away from him quickly. Even if Steampunk is not my style, I don't want to ruin the layout I just created.